In the era of technology where everything is available online and everyone, especially children are being attracted a very fast rate, there are some libraries in India which are diverting them from the online world to reading books. They are doing this generous work of building a healthy though possessing society.
Books contain the best of the thinking part and ideas. When children are deprived of reading them, they are deprived of thinking what they should do and as a result, eventually, they stop thinking valuable and thoughtful.
Ease of internet availability and cost is making buying books an option to more and more with the course of time flow. Thus, children are getting pulled away from books.
On the other hand, the second largest source for children to avail books to read is the school library. But the school officials / librarians hesitate to give books to students as they doubt students will damage the books knowingly or unknowingly. Furthermore, the reading collection is updated rarely at those places.
On the contrary, there are some libraries that are doing outstanding work of making books available to children and adults too. This chain of a library includes the likes of the Eloor Libraries and Just Books. There are some small libraries too, which are doing wonders of surrounding kids with books and with latest reading materials too.
Reading Caterpillar, Delhi
Founded by Rabani Garg, The Reading Caterpillar came into existence in 2009. The founder said that she noticed an empty space in the lives of Delhi's children. She recognized that reading space should be made available in the city. It was started with the help of teachers, parents, writers, etc.
"We like to call it a library, book haven and studio! We pretty much squeeze in all book-related activities. It is a book-lending library, a reading space – drop ins are welcome – a book club for different age groups, a book hospital, an artist space. We love book launches, workshops and readings with authors and artists," says the founder.
As of now, this particular library has 4500 books and a major percentage of books is dedicated to kids. At present, the upper age limit is eleven years, but it is being increased every year.
The Reading Caterpillar has a membership system, workshops, etc., which would attract children here continuously. Some visits here once a week or more often.
Rabani said that the biggest challenge is not to make sure that books come back, rather it is to keep moving forward. Pricing is kept affordable here for all.
Address: F-24 second floor, Nizamuddin West, New Delhi,
Contact Number: +91981026844,
Day and Timing: Tuesday to Friday 10:30 – 17:30; Saturday 10:00 – 17:00,
Fees start at Rs 4000 per year.
Books 'n' More Library and Activity Centre, Secunderabad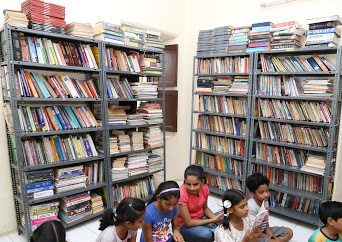 Varsha Ramesh founded Books 'n' More in 2011 after a lot of time investing in it with a friend. However, her friend left the project due to personal issues but Ramesh is continuously running it very well.
She says, "Since there is no concept of a public library in India, we wanted to make books accessible to everyone."
Books 'n' More is a busy place with lots of activities going on every day like readers coming to read, storytelling, phonetics, vocabulary development, chess, scrabble, dances like Kathak, Bharatnatyam, Carnatic music, etc.
At present, there are about 15,000 books out of which nearly 60% books are for children. The library stores just a copy of a book and currently has a membership of around 1200 persons. Most of the subscribers visit once in 2 weeks.
Ramesh is managing the library with the help of her three colleagues. This reading space has a well-built team of 20 regular teachers, 35 freelancers, and some professionals who help the library to interact and conduct various activities with the children.
292, Street NO 2, West Marredpally, Secunderabad,
+919885956728,
Monday to Saturday: 10:30-20:30,
Sunday: 10:30-18:30,
Fees: Rs 100 per month.
The Reading Room, Bangalore
Founded by Falak Randerian, The Reading Room is a part of the My Little Chatterbox venture started in 2015.
The founder wanted the children to feel the feeling of being surrounded by books and other reading material as most of them don't know what bookstores used to be as they are disappearing a fast rate.
Falak says, "We wanted to do whatever little we could to bring that experience back."
A book hospital is also setup to look after the books which need care. At present, there are about 700 books for kids up to the age of 10. About 100 people have taken its membership. Falak works here with a colleague.
165/A First Floor,
"Shashi",
6th Main, J P Nagar 3rd Phase, Bangalore,
+919964495522,
Fees start at Rs 1000 per month,
15:00 – 18:00 except Sunday and Tuesday.
Deepalaya Library, Delhi
It was founded in 2008 by a group of volunteers who used to teach at the Deepalaya School. Earlier, children of up to the age of 13 years used to come.
Mridula Koshy said that in the starting days they were not planning to make a library, but eventually, the process resulted in the opening of a library with 3000 books.
Koshay says, "This reading space mainly has an activity of reading aloud which has many benefits for children. They understand the words, the feelings, and much more."
The library is operational with the help of volunteers and children. The Library Student Council provides a great opportunity to children to develop their leadership skills while doing the library works.
At the present state, the library has more than 3000 books out of which 2400 are dedicated to children and the remaining ones for young people. This collection consists of diverse genre – picture books, general fiction, poetry, non-fiction, etc. Most of the books are in The English language.
Ramditti J R Narang Deepalaya School,
B-65, Panchsheel Vihar, Opposite Trivenicom Complex, Sheikh Sarai – I, New Delhi,
+919818436201,
Free,
Monday: 15:00 – 18:30;
Friday: 10:00 – 12:00.
The Hippocampus Libraries, Bangalore and Chennai
Hippocampus has two branches, one in Bangalore and the second one in Chennai which were started in 2003 and 2005 respectively. However, it was an old idea of Umesh and Vimala Malhotra.
Hippocampus organizes various activities which range from cooking to art and craft, to science, etc. Field trips to some exciting kind of places are regularly organized. Large scale events like musical gathering, carnivals, river sports trips, international story-telling festival are some of the very exciting activities to participate in here.
As of now, the Hippocampus Bangalore has a collection of over 15,000 books and 60 to 75 new books are added every month. Nearly all the books are for children.
The library has over 1000 members and connected to more than 3500 children. It has started a new facility to provide books to the child's address.
525, 16th Main, 3rd Block, Koramangala, Bengaluru,
+9180-25630206,
Fees start at Rs 215 per month,
10:00 – 19:00.
The activities at Hippocampus Chennai consists of storytelling, book launches, workshops, picnics and book clubs.
Chandni Khanna, head of the Chennai library, says "Our weekend sessions are very popular. Celebrating books and authors, and giving parents tips on reading and books is what we enjoy doing. We celebrate festivals and important days, all with the help of books."
The Chennai library has the membership of over 1820 people. Books are delivered to about 250 children at their homes. The working staff includes four people who manage all the work, whether it is data entry, planning, accounts, circulation, and home delivery. The library furniture is the major thing here. It was specially made and imported.
11, 3rd Avenue, Indirnagar, Adyar, Chennai,
+9144-42116417,
Fees start at Rs 300 per month,
10:00 – 19:00.
Trilogy, Mumbai
Meethil and Ahalya founded Trilogy on 25th December 2014. Earlier, the founders used to set up reading spaces for corporate and entrepreneurs. They previously owned a library management consultancy named The Eternal Library.
Ahalya says, "We wanted readers to experience what a curated, well-designed library could do for them. Our commitment is to the writer, the reader, and the book."
Both the founders and one assistant run the library. It organizes some rare kind of activities like poetry project, taking myths project, and much more. They also have writing and reading sessions in their list to improve and built the vocabulary of children.
At present, the library consists of nearly 5500 books. More than 33% books are reserved for children / preschoolers who visit in the morning and afternoon. The rest of the time is for older children.
Building No. 28,
First Floor, Raghuvanshi Mills Compound, Lower Parel, Mumbai,
+918080590590,
Fees start at Rs 300 per month,
9:00 – 20:00.